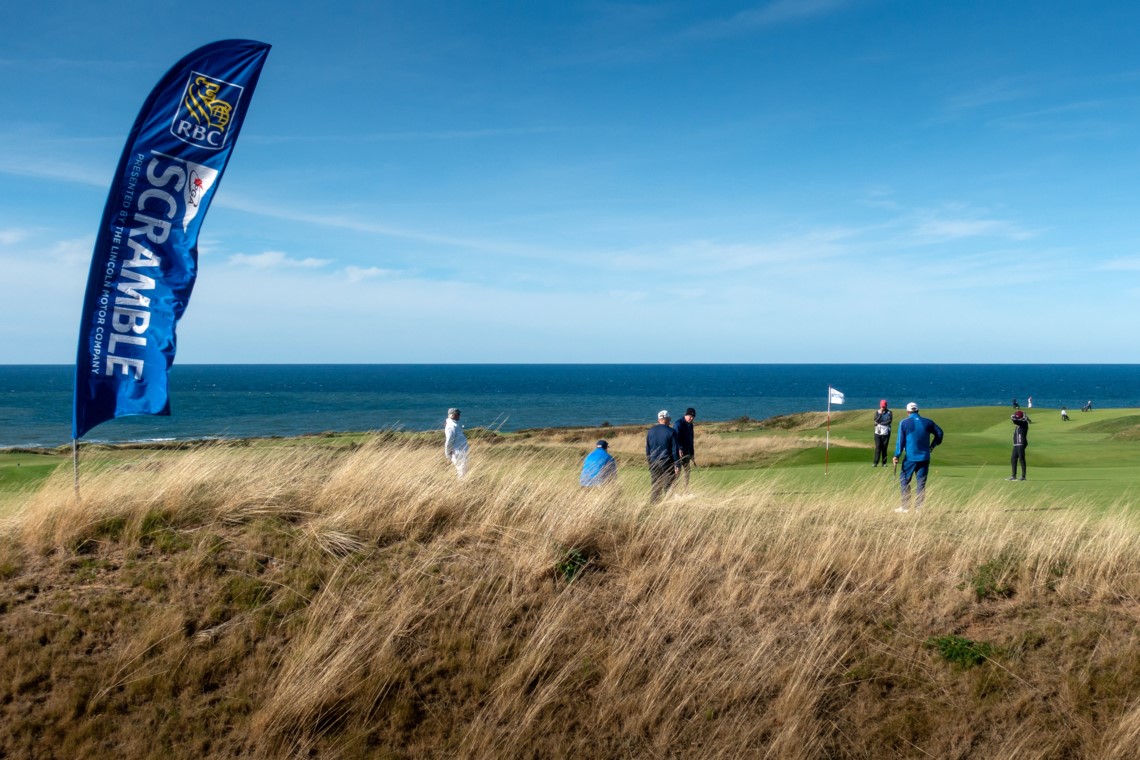 Carman Comes Through at Cabot Links
Participants were treated to an absolutely perfect day at Cabot Links for the first round of the RBC PGA Scramble presented by The Lincoln Motor Company.
Twenty-one teams—comprised of four amateurs and one PGA of Canada professional—from across the country made they're way around a Cabot Links venue that glimmered in golden sunshine.
"Honestly, it was about as perfect out there today as you could ever dream," said the team from The Landings Golf Course in Kingston, Ont. "This golf course is in amazing shape and we'll remember this experience for the rest of our lives."
Not only will the squad from The Landings remember the amazing experience at Cabot Links on day one, they'll also remember how well they played.
"We made so many putts and had a blast," they said.
With a net score of -20.3, they trail the leaders from Manitoba's Carman Golf and Curling Club by .6 of a shot.
"The great thing about our team today was that we were having fun and being ourselves no matter the outcome of each shot," said the team from Carman. "And really, how could you not have fun considering what RBC, The Lincoln Motor Company and The Glenlivet are doing for us this week on just a spectacular golf course."
Westmount Golf and Country Club from Ontario sits in third place at -18.8, while Mactaquac Golf Course in New Brunswick is fourth at -17.7 and Ontario's Rideau View Golf Club rounds out the top five at -17.5.
For the full leaderboard and second round tee times, CLICK HERE.
Taking place Oct 6-8 at the world-renowned Cabot Links and Cabot Cliffs, the RBC PGA Scramble presented by The Lincoln Motor Company National Final sees 21 teams—comprised of four amateur golfers and one PGA of Canada professional—playing in a 54-hole national championship.

Cabot Cliffs ranked No. 1, while Cabot Links ranked No. 4 on SCOREGolf's 2018 Best Golf Courses in Canada list. Cabot Cliffs also debuted 19th on the World's Top 100 Courses list by Golf Digest.
Located in Inverness, N.S., Cabot Links is Canada's first and only authentic links golf resort. Nestled between the Atlantic Ocean and the picturesque town of Inverness, the Cabot Links course represents a dramatic departure from the typical golf excursion. With six holes playing directly alongside the water and every hole offering an ocean view, Cabot Links is where traditional links-land golf comes to life against the spectacular Nova Scotia landscape.

The Cabot Cliffs course, designed by the decorated team of Bill Coore and Ben Crenshaw, is the newest addition to Cabot. Exquisitely carved out of the breathtaking Cape Breton landscape, with postcard-worthy panoramas vying for your attention and every hole calling out to the sea, it is links-land golf at its best.
Tomorrow's second round takes place at the Cliffs course, while the final round of the national championship returns to the Cabot Links on Tuesday.

"We've been told that the Cabot Cliffs course tomorrow is even better than the Links course we played today which I can't wait to see since I find it hard to believe anything could be that much better than what we played today."
The RBC PGA Scramble presented by The Lincoln Motor Company National Final promises to be a golf trip of a lifetime and includes numerous receptions, an authentic east coast kitchen party, hole-in-one shootout, glow-in-dark golf, unique scotch tastings, prizing, meals, activations and much more.

Canadian Golf Hall of Fame member and golf media personality Bob Weeks will be on-site during championship week as an honorary starter for the final round at Cabot Links, as well as host emcee for the championship's closing ceremonies. PGA TOUR player Ben Silverman will also be on hand at Cabot, adding to the overall atmosphere and experience of the event.
The RBC PGA Scramble presented by the Lincoln Motor Company saw thousands of golfers from across the country participate in the series of events this summer. The 20 teams participating at Cabot Links made it through local and regional qualifying events.
Those not playing in the RBC PGA Scramble of Canada presented by The Lincoln Motor Company National Final can still take part in all the action throughout the week at Cabot Links through social media. Watch on Facebook Live with multiple live streams—which include player interviews, behind-the-scenes looks, drone flyovers, opening and closing ceremonies, and more. Follow along on Twitter and Instagram as well for great social content.