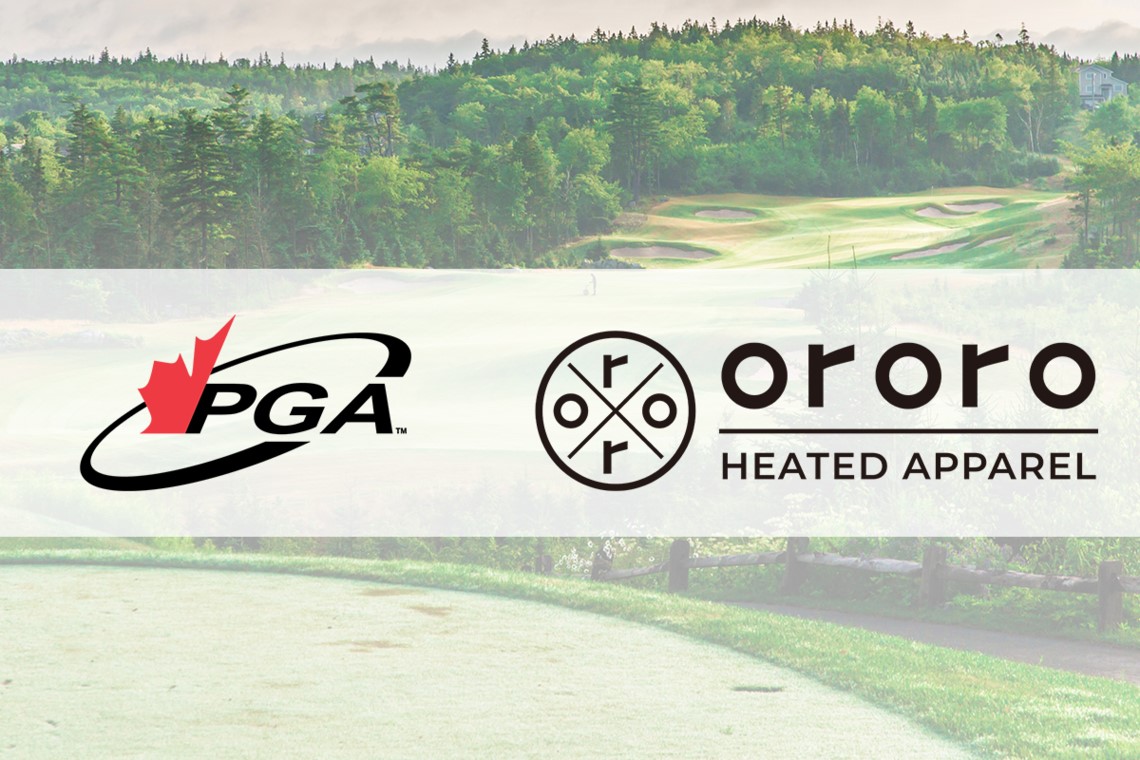 PGA of Canada Announces ORORO Heated Apparel as National Partner
Heated apparel company becomes title sponsor of PGA Women's Championship of Canada
(Acton, ON) - The PGA of Canada is pleased to announce a new national partnership with ORORO Heated Apparel, a cutting-edge functional apparel company launched in 2015, that will see them integrated into a number of different areas of the Association including as the new title sponsor of the PGA Women's Championship of Canada.

In addition, the multi-year agreement includes presenting sponsorship of Tee Talks Live – Digital Series, and a unique activation set to take place at 40 courses around the country at season opening events that will allow golfers a chance to interact and win a variety of ORORO products to take on the crisp Canadian spring weather.

"We are thrilled to have ORORO as a new national partner on a variety of different programs including as our new title sponsor of the PGA Women's Championship of Canada," said PGA of Canada CEO Kevin Thistle. "Pairing heated clothing with Canadian golfers is a perfect match, and beyond making a great product, ORORO is an innovative company that we are so excited to work with and showcase moving forward."

Since the inaugural Women's Championship of Canada in 1987, some of the Canada's greatest players have stamped their name on the Lorie Kane trophy. Kane won the event a record five times – including four times in a row from 1996-1999. Other past champions include Brooke Henderson, Alena Sharp, Cathy Sherk and Brittany Marchand.

"ORORO is proud to partner with the PGA of Canada and attach our brand to not only a great Association but to a number of great programs as well," said ORORO Co-Founder Mark Hu. "We continue to see the golf market as a significant contributor to our overall success and believe the PGA of Canada can help spread the word that our product is beneficial not just for golfers, but for other sports and industries as well."

The dates and speaker lineup for both the Tee Talks Live – Digital Speaker Series presented by ORORO and the ORORO PGA Women's Championship of Canada will be released in the coming weeks.

To learn more, visit www.ororowear.com.

About ORORO Heated Apparel:

Hailing from the Midwest, we understand that the cold can interfere with your full enjoyment of life! That's the reason why, in 2015, we created ORORO Heated Apparel. ORORO's current product line includes heated jackets, vests, hoodies, gloves, mittens and socks. With over 500,000 happy customers, ORORO is on the cutting edge of technology, helping you enjoy life in cold climates. For more information, visit www.ororowear.com.